About Next Day Jumps LLC
Next Day Jumps LLC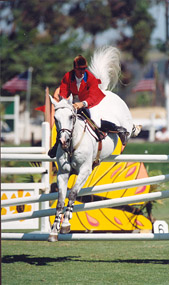 is a retailer of top quality Duralon horse jumps. Our jumps are sturdy, lightweight, and very economical. We offer all styles of jumps and accessories as well as packaged sets and courses.
At Next Day Jumps LLC we are fanatics about horses and jumping. Riding over fences is more than a sport, it is an art. We love everything about it. That passion shows in the jumps we design and carefully build using strong, quality materials.
We have personally designed and tested every jump we sell--we've built courses for show and training, we've transported the jumps across the state and carried them around more arenas than we care to count, and jumped them from the back of everything from pre-green hunters to Grand Prix mounts. Whenever we found a weakness in a jump design--no matter how small--we went back to the drawing board and revised our blueprints, changing and improving the design. This nineteen year evolution has resulted in making Next Day Jumps LLC the best obstacles around at the best prices!
The appearance of our jumps is classic, designed with a eye to the roots of the sport. The Picket Gates look as fresh as a New England morning. The Brush Box stuffed with evergreen boughs would be at home in an Irish field. Our classic Wing Standards would grace the Grand Prix courses at Wembley. Riding horses is about style, grace, and harmony and our jumps are lovingly built to complement your arena or show.
Next Day Jumps LLC is proud to introduce an elite line of fine horse jumps: Duralon PVC.
Duralon is composed of a unique blend of polymers, formulated specifically to be super durable and impact-resistant. If you have ever complained about lugging heavy splintery wood jumps around your arena, or are tired of painting and repairing them, then lightweight Duralon PVC jumps from Next Day Jumps LLC are for you! These incredibly strong and lightweight Duralon jumps are designed and built only by Next Day Jumps LLC. You can't buy them anywhere else.
The wonderful, no-maintenance Duralon material never needs painting. The pure white color is molded right in the material, and Duralon jumps cannot rot or decay. The Duralon PVC line is warranteed 10 years for home consumers and 5 years for commercial use. Feel the freedom to redesign your course any time you like with the finest lightweight jumps made--your back will thank you!
In constructing these jumps, we pay attention to every detail. Just as there are no shortcuts in the training of your horse, we take no shortcuts in designing and building our obstacles. We are confident that you'll find the Duralon PVC line to be superior to wood jumps in every way